GEEFA NV - RENE NICOLAI NV
René Nicolaï fruit tree nursery is a national and international well-established comany in the world of fruit industry. The fruit tree nursery has an annual production of approximately 1,200,000 rootstocks and 1,000,000 fruit trees of which 70% apple trees, 20% pear trees and 10 % cherry trees.
The assortment is completely attuned to modern, Western European fruit culture and satisfies the norms of the European market. The products find their way to the majority of European countries and even further.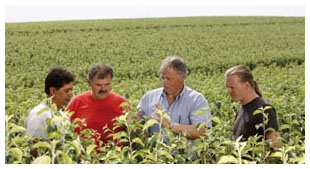 EFFECTIVE COLLABORATIONS - PARTNERSHIPS
Partnerships and strategic alliances are an important part of the modern, international fruit growing sector. Over the years the company has developed several collaborations and is a member or a partner in several organisations:
AIGN
Bohemian Plants SRO (CZ)
Coöperatief Enthoutpark (B)
Inova Fruit BV (B)
Pépinières du Valois (F)
Tree Quattro (NL)
CONTINUOUSLY INNOVATING
By developing and introducing innovations in the area of products, processes and service, the company continues to remain one step ahead of its competitors.
René Nicolaï NV recently introduced various innovations:
in the development of new varieties
in the implementation of a complete pallet system for internal and external logistics
through the installation of new misting equipment in the cold stores.
ORGANIC FARMING
Eco-friendly, 100% organic and sustainable: that's how people want it nowadays. René Nicolaï NV offers ca. 30,000 organically produced apple trees, which are Blik-certificated trees (Division of Integra for Organic Production) and is, with that figure, leader in the Belgian market.